Port of
Tyne
South Shields
Steelwork Package
Value: £620k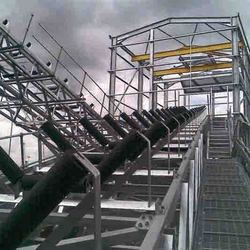 Along with the conveyors, P&D Engineering also fabricated and erected a transfer tower structure and a penthouse structure. The penthouse structure had to be erected on top of a 30m high concrete silo, which is using a 500t mobile crane and all of our site expertise went without a hitch, even on a windy day.
As we had already completed a similar project closer to home and our expertise was again called upon when the main contractor had secured this project in the Port of Tyne. Along with our experience of conveyor steelwork this project also used our knowledge in open mesh flooring and handrailing fabrication and erection.
P&D Engineering have now been awarded a further conveyor structure contract by the main contractor, demonstrating that as a complete steelwork package, P&D Engineering deliver what is required of them.
---